The Institute of Navigation at the University of Stuttgart (INS) has recently joined the Spirent Academia Programme (https://www.spirent.com/home/spirent-academia-program) under which both partners will cooperate on research and educational topics related to the simulation of real-world GNSS scenarios. The programme will provide PhD students and researchers from the Institute of Navigation exclusive insights of Spirent's simulation tools and algorithms, while providing feedback to Spirent engineers to further enhance their software and hardware suites.
For Spirent, the market-leader in GNSS and additional PNT testing, this cooperation is helping to create new opportunities for research and technological advancement. Spirent also believes that encouraging, educating and enabling the next generation of PNT engineers is vital if the industry is to address the skills gap and meet the exciting challenges that lie ahead.
Two research areas have been identified which will be the main focus of this cooperation.
One focus will be on highly precise orbit determination (POD) of LEO and VLEO constellations which operate under agile mission goals. Together with support from Spirent millimeter-order systematic effects on GNSS observations will be properly modelled and simulated, in order to understand their impact on the POD solutions and judge whether the mission goals can be achieved.

Another focus will be on resilient GNSS positioning of unmanned arial vehicles (UAVs) which operate in urban environments. Facing complex multi-path scenarios and threats like GNSS jamming and spoofing, it is of utmost importance to deal with these challenges when designing soft- and hardware navigation solutions for inner-city drone operations. INS and Spirent will mutually benefit from expert knowledge on comprehensive simulation of resilient positioning scenarios and thus further improve the safety of emerging urban air mobility applications.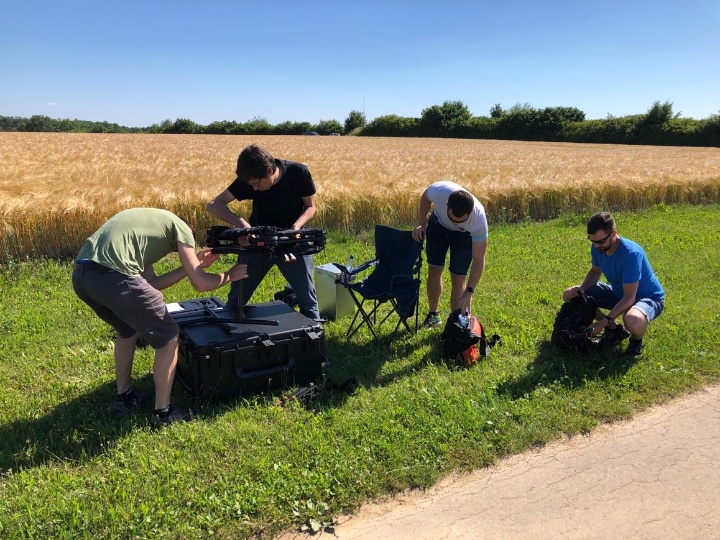 Along with cooperation on R&D topics, Spirent's Academia Programme will provide access to industry-standard GNSS simulation tools for University of Stuttgart's undergraduate and graduate students.